Top Metal Roofing Contractors & Services in Tampa FL
What is so hard about installing or repairing a metal roofing? This is a question we are asked quite often for either new or regular clients. We understand that acquiring any type of metal roofing and looking at the panels or shingles makes you think: this seems easy to install. However, many things can go wrong with the installation when you do not have a clear idea of how to do it. And the consequences of this will not show right away but rather in a critical situation as heavy rain—for example.
This makes people conclude that metal is not the best option for their properties when the real problem is how the installation was handled and the type of metal roofing. Not all types or styles are the best for every property—either commercial or residential—, which means you cannot expect to use the same type as your friend's house or business. Instead, you need to evaluate the aspects that matter: weather, the structure of the property, current roof, aesthetics, and more. All this takes time but when you hit the right type, all that is left is to carry out the installation properly.
We at Tampa Metal Roofing Installation & Repair Team have been working in this field for over a decade, and all our professionals know how to deal with any metal roofing type. We will help you by providing basic services such as assessment, metal roofing installation, repair, and the list continues. Unlike what you might be thinking, our services do not include simple installation and repair. Metal roofing involves many other needs, and the work that needs to be done is not commonly known for our clients. However, we assure you that before doing anything to your roof, our professionals will have a proper conversation with you about any issues, the design, type, style, and all the processes.
How much can we do for you? 
It is true our most requested services are installation and repair, but what does both of them include? If you come to us asking for metal roof installation, you will need to be more specific about your needs or, at least, about what you want to achieve with this process. Each type of metal roof has different procedures and steps in its installation, and the same goes for repair or replacement. Part of our main services focuses on specific types and styles: 
Corrugated metal roof. 

Standing seam metal roof. 

Tapered panels metal roof. 

Metal tile or shingle roof. 

Stone-coated steel roofing.
But we also have other specific services that cover the repair, re-roofing, and construction elements. That means you can contact us if you need help with retrofitting metal roofs, dealing with residential or commercial roofing. Our contractors and professionals are available all year round for you and your needs, including for new construction properties.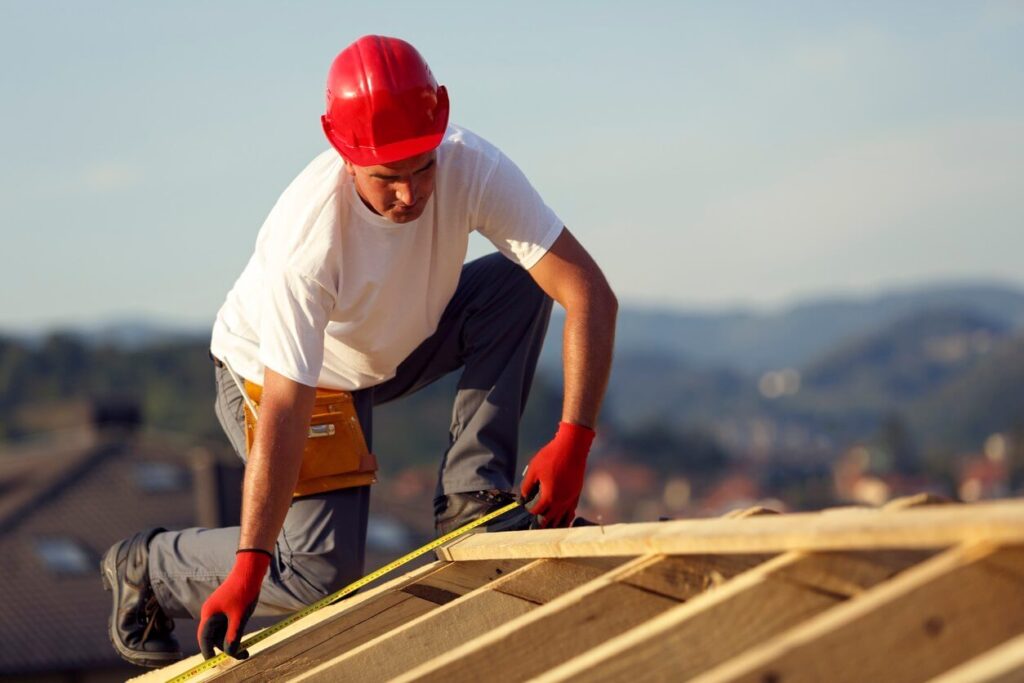 How do you know what you need from us? 
Knowing what you need is simple when you are just thinking about installing a metal roofing since you only need to request this service in our company. However, we understand what you and many people are trying to obtain from this question. For example, how do you know you need to repair and not install a new roof? 
Situations like this require inspection in order to determine what is the best way to proceed and prevent you from spending more money and time than necessary. When it comes to the type of metal roof you want to install, we are here to answer your questions. If you made up your mind about one in specific, our contractors will make sure to let you know why you should and should not install it over other types. Overall, deciding the services you need from us depends on what you are trying to do: installing, repairing, retrofitting, and in other aspects such as the property where you need help. 
For example, your business or house. The best way to know what you need is by contacting us and letting our professionals know your situation. 
We will make sure to ask the right questions and give you direct replies that will not make you more confused and are going to be reasonable and explained. If you think you need retrofitting, we will tell you why you do need it or not. And the same applies to the rest of our services or your needs. However, keep in mind that the best way to be certain about what you need—unless it is quite obvious—is to assess or inspect the roof and your property. 
In this way, our contractors will be able to give you a more informed answer and the reason why you either need a metal tile roof instead of a shingle one. And the same applies to the rest of our services and options available. One of our most requested services nowadays is the new construction metal roofing due to how many people are deciding to give it an opportunity. Working on new projects is exciting for us but remember: it is not the only thing we can do for you. Therefore, do not hesitate if you need to repair your roof or even replace it. 
For more information, make sure to contact us. Calling or emailing is free, and we will not charge you for basic information and assistance. And you are free to hire our services anytime. Of course, if you already have in mind what you want and need—and you are 100% sure about it—, our professionals will be able to start right away as soon as you take the first step. Have questions about a specific service? Feel free to ask as many as you have. We know some services or options can be confusing when you know nothing about the differences and what they are for. Which is why we take the time to explain each one of our main services—and more—if it is necessary.
Time to Replace Your Roof? We Can Help
Considering roofing replacement? When it comes to roofing projects, many homeowners rely on professionals to get the job done. At Tampa Metal Roofing Installation & Repair Team, our specialists stick to all the industry standards when installing metal roofing on both residential and commercial properties. Therefore, you can be sure of getting a sturdy roof on top of your house. As a result, you can get the best services from our company in the following fields;
What Locations do we Serve?
Tampa Metal Roofing Installation & Repair Team is a name you can trust and rely on. Our metal roofing services were limited in Tampa, FL when we started. But with time our company has expanded and is now serving over ten locations within Florida.
It shows how reliable we are. Here are some places within Florida, where you can access our world-class metal roofing services: –